A Special Mission Of Love
To Support Holy Cross School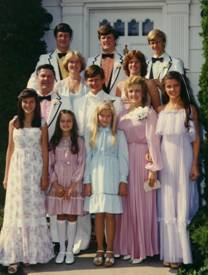 All ten of the children in my family attended Holy Cross School in South Portland, Maine.  We received the basic building blocks of a good Catholic education.  Now several members of the next generation of our family, the grandchildren, are attending Holy Cross School to obtain the same robust education grounded in the Catholic Faith and strong Christian values. 
Founded in 1937, Holy Cross School has served thousands of families, putting Faith to work in nurturing virtue, compassion and mutual respect in our young people.  This mission is so vital in our modern culture!  We would warmly welcome your support to help Holy Cross School continue to provide a strong Catholic education for all who desire to receive it in our community.  If you would like to help in this special mission of strengthening the Faith of young children, please send your donation to:
Holy Cross School
436 Broadway
South Portland, Maine  04106-2996
207.799.6661
Or visit the Holy Cross St. John's parish cluster's NEW! web site at http://hcsj.org/ or visit them on Facebook.
Thank you in advance for your wonderful support!  As Mother Teresa used to say: "Alone we can do nothing, but together, we can do something beautiful for God!"